Looking for a special sound out of your vehicle? Looking for louder, quieter, mild or anything in-between? Seeburg Mufflers strive to delivering your dream sound with our Customized exhaust systems.
With Seeburg's decades of experience and firsthand knowledge of so many vehicles, we can give you a great idea of what it should sound like before the install – but please know that the same system on 2 identical factory vehicles can sound slightly different.
No one else will sound the same as we customize the system to meet your tone and volume goals!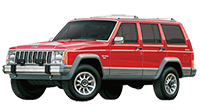 Can REPAIR – versus just replacing the whole system